Apparelling Orphan Heiresses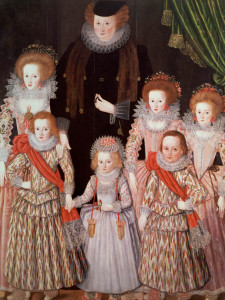 Say that ten times fast…
I have uploaded two more accounts:
which contain clothing purchases made for Children Mary and Richard by their father's Executor after his death; and
Recording expenditures made by wardens for the orphans under their care.
The children in the Farmor account were fairly well off; they had clothing of taffeta as well as wool. Mary Farmor, for instance, received the following clothing in 1581:
a pair of shoes
a pair of knit hose
a petticoat of mockado, decorated with parchment lace, murrey sarcenet and fastened with hooks and eyes
a gown with yellow taffeta sleeves
another workaday gown of mockado
smocks
sleeves, partlets and coifs of holland
three cauls, two of silver and gilt, as well as a shadow
The other years are sparser in clothing references, but a couple of items caught my eye: Young Richard, at age 8, was given "a string to his myttens", which immediately brought to mind images of my youth, with my mittens run on a string up one sleeve and down the other so that they wouldn't get lost. He was also given wooden-soled pattens. I can just see an eight-year-old boy clattering down the halls of his house in them, making an unholy racket, scolded by the cook for wearing them inside.
Richard also had a doublet and venetians of popinjay green taffeta and yellow sarcenet made for him in 1586, when he was 11 years old. How adorable is that? He also received a shooting glove that year–for archery? This entry made me envision Richard's first day at the archery butt, proudly and self-consciously wearing his new glove as he worked to pull a bow back and land an arrow in the target.
The most interesting orphan in the Sandwich Book of Orphans is Thomasine Walters, an heiress in a small way with an income of 10 £ a year in rentals. She lodged with a couple of people as well as going to a boarding school in Canterbury, and the account sheds some light on her wardrobe and other textile-related activities.
In 1591 she had a gown of 2 yards of violet broadcloth made for her, interlined and lined with 2 yards of bays and a yard of cotton, for her to wear at boarding school in Canturbury.
In 1592 she had a waistcoat made for her out of 7/8 of a yard of Devonshire Kersey, and a petticoate of one and a half yards of stamell cloth made for her as well. The next year she had another waistcoat of Devonshire Kersey made, this one of 1 1/4 yards; one can imagine she had grown quite a bit that year.
in 1593 she had another gown, more elaborate, made for her out of 10 yards of "lyle grosgrain". The gown was stiffened with buckram and bent, lined with bays and had a pair of whalebone-stiffened sleeves. It was decorated with tawny bobbin lace. A petticoat of peach-colored broadcloth was made for her as well, bound with 3 yards of lace, decorated with 6 1/4 yards of black and red billiment lace (two rows of trim around the bottom?) and with statute fringe. Her smocks this year were, interestingly, made of buckram; a coarser cloth than one would expect with a gown and petticoat of this quality. However, in the same year that the gown was made, there's a mention that she married a man named Harker; perhaps the gown and petticoat were for the wedding.
The account also illuminates Thomasine's experience with needlework. Yarn is purchased for her on several occasions so that she might knit stockings. A sampler is also bought for her, as well as several purchases of "sylke"–presumably embroidery floss, given the cheap price. She is given two shillings to buy some silk to work a coif, and a "seame of French worke for a koyf" is bought at near the same time. in 1593, she also purchases "a cushen to make lace uppon" AND "36 stickes to make lace". Possibly the " fine Wight thrid to woork withall" that she purchased was intended for the same purpose.
There's another tidbit of information in Thomasine's accounts that interested me: one of her renters was a tailor of modest means, a dutchman named John Martin. The book records income for her renters, and I was able to discovered that Martin paid 20 shillings a year for rental of his house. Useful information in my ongoing quest to find out just how much an average tailor made in profit a year.