Alcega: Men's Jerkin Pattern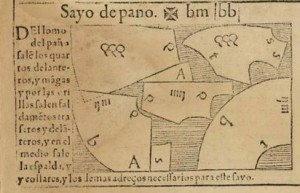 Alcega's jerkin of wool cloth. This takes 50 inches of 66-inch wide fabric.
Note that the only real difference between this garment and Alcega's cassock is the separate cut of the skirt in back. Because of this, it is often difficult to tell the difference in portraits unless you see the back of the subject. Village scenes are particularly useful for this.
Grey Wool Alcega Jerkin
Made by: Mathew Gnagy
Gold and Black Jerkin with hanging Sleeves
Made by: Mathew Gnagy
Gold Brocade Cassock
Made by: Mathew Gnagy