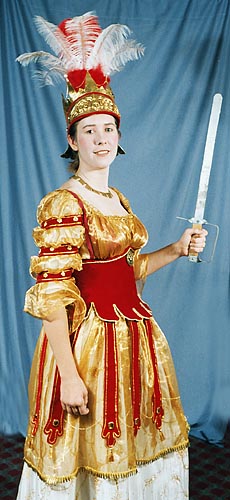 A Masque Gown
Item a Masquer's Gowne for Penthesilea, Queene of the Amazones
by Drea Leed
This is a recreation of the costume which would have been worn by a masquer portraying a classical warrior queen, such as Penthesilea, queen of the amazons. Below is a description of the masque dress; the bold is the "original" description, as would have been written by a 16th century costumer; below each original statement is an extended explanation for the modern audience.
Pictures are by Don McClane, © 2000
---
Penthesilea is attyred in redde, to signifie her warrior-like spirit; gold, to signifye her royall estate; and white, to signifie her chaste and vyrtuous nature.
In the 16th century, color was a significant factor in portraying and identifying deities, mythological figures and legendary heros. Polychromia, a 17th century instructional book on painting, drawing and limning, devoted a substantial section to the appropriate hair, skin and clothing colors for grecian gods, current and historical kings and queens, and figures from legend. The costume designs for La Pellegrina, a masque held in 1589 by the Medici family in Florence, specified distinct colors for each masquer's dress.

She is straungely apparaled in a manner similar to that of the ancient Greeks, as depicted in Bertelli's booke "Omnium fere gentium nostrae aetatis habitus".
Bertelli's book of foreign dress, first published in 1563 and republished in 1569, was one of the major inspirations for masque and theatre costume designers of the time, who drew from it designs for foreign gowns, headdresses and costume motifs…all influenced by the current fashionable aesthetic and "masque motifs" of the time, which signified to the audience that this was a foreign or historical costume.
Other elements common to masque costume are a close-fitting corselet worn over the gown, often highly decorated; layered skirts, one calf length (the petticoat) and one knee-length (part of the gown); strips of fabric, sometimes tied or chained together, hanging down over the gown skirt; an uncovered bosom, or a bosom covered only by a sheer chemise; and very short, often sheer sleeves, sometimes wrapped spiral-wise with bands of decorative fabric. An elaborate headdress signifying the masquer's identity and character was an essential and central part of the costume, and there is commonly a sheer veil hanging down from the headdress.
This particular costume was drawn together from the costume designs for the 1589 Masque La Pellegrina and elements found in Inigo Jones' masque costume designs of the early 17th century, with some influence from Arcimboldo's masque drawings of the 1590s and 16th century books of foreign dress, such as Vecellio.
Her skirts, gown and sleeves are of a light and airy nature, as befit a masquer.
In his book I Quattro Dialoghi, which described among other things the appropriate dress to be worn by masquers, Leone di' Sommi specifically stated that the gowns of those portraying classical figures and nymphs should be light and sheer, and the skirts mid-calf length. By the latter half of the 16th century, northern Europe had adopted this classical aesthetic and done away with the heavy, ponderous masque and theater dress worn in earlier decades. Later records referring to masque dress confirmed that by 1590, masque dress as a whole was expected to be light and airy, no matter whom the character being portrayed. Fabrics used for masque costume were, on the whole, lighter than those used for every day dress.
Her petticoate is of white sarcanet worked in gold and cutte work.
The white petticoat, made from an Indian Sari, is longer than most masque petticoats; I plan to reuse it as a petticoat to wear under an Elizabethan gown. This practice was common in late 16th century and early 17th century masques. Noblewomen would wear a good petticoat as a masque skirt and then re-use it for everyday wear. The goldwork and embroidery approximate the floral designs popular at the time. The design around the bottom is reminiscent of the petticoat worn by one of the female masquers drawn by Inigo Jones in the early 17th century.
The outer layer is fine white silk. The lining is also very sheer silk, and the interlining of silk organza with a 2 inch band of horsehair stiffening stitched in at the bottom. Keeping this costume as light and airy as possible, in keeping with the 16th century masque aesthetic, was important. The layers are machine-stitched together at the skirt bottom, but all other sewing on the petticoat was done by hand.
Her gown is of sypres cloth of gold, and her veil of red sylk. It is guarded with frynge at the hemme, which signifyeth Penthesilea's origin in the east; the sleeves are also of eastern deseygn, and are sewn with golden lions heads as a sign of the Amazon Queene's strength and prowess.
The golden "gown" is in this case of metallic silk organza, which may be similar to what was referred to in the 16th century as "cypress cloth-of-gold". The texture is similar to the cypress of the 16th century. It is a basic 16th Italian "camicia" or chemise in cut, with sleeves pleated and sewn to a T-shaped body and a pleated neckline. There are records in the British office of revels for chemises of noblewomen being re-used as masque gowns. It has wrist-length sleeves (elbow-length, when poufed and gathered) and only reaches to the knee. The neckline gathers are stitched down with metal gold soutache braid. All seams on this gown were sewn and finished by hand.
The gown is edged with golden fringe along the bottom. Fringe, along with short sleeves, had been used since the 15th century to denote a foreign, or eastern, style of dress. Red velvet strips, decorated with gold soutache braid and metal lion heads, are wrapped around the gown sleeves.
The spiral-wrapped sleeves were inspired by one of the queens in Inigo Jones' "Masque of the Queens". These created another challenge. Contemporary references suggest that spiral-wrapped strips were pinned to the chemise after it was on and the poufs arranged for every performance; but I needed the poufs and strips to stay in place, and therefore needed a foundation sleeve to sew them to. False puffs and internal foundation sleeves were used during the 16th century, so this was not a problem.
For a foundation sleeve however, I needed a foundation bodice to attach it to. I ended up making a bodice of heavy white linen that scooped down under the bosom and stopped at mid-rib, with short sleeves sewn to the shoulders, that hooked-and-eyed up the front. I attached the gown to the foundation at the shoulders, armescye and back neckline. The sleeves were gathered and poufed and the red strips stitched down to the linen foundation to keep the gathers in place.
This foundation had the added benefit of allowing me to sew the neckline gathers down under the bosom, so that they looked regular and neat, and giving me a high waistline to which I could temporarily stitch my petticoat, thereby lifting it to the appropriate short length for a masque dress. It also gave me a foundation to which I could attach a false bosom.
Penthesilea wears a body of red vellat, shaped in the fashion of the armor worn by Amazonnes. Grecian skirts hang from the armour, and they are tipped with fringe, signifying, again, her foreygn origin.
The corslet is incorporated into several masque costumes. It wrapped around the torso, and came in a variety of widths and sizes. This corslet was the most challenging item to make. I researched period methods of stiffening with glue and paste, and ended up taking felt, soaking it in a mixture of two parts glue and one part water, and shaping it on a dress form into the form I wanted. Hide glue is the most likely candidate for what was used in period to create such heavy, stiff garments. I used Elmer's glue rather than hide glue, as I wanted the item to be more waterproof and durable (hide-glue is water soluble)
Once the corselet was dry, I glued red velvet over the outside and red linen over the inside. I then stitched a heavy gold cord around the edges, touched up any felt which showed with red paint, and poked lacing holes in the back. In period, the lacing holes would have been bound with thread alone, or thread sewn over a metal ring. I used grommets to give some strength and stability to the glue-stiffened felt.
The corselet skirt is a series of long strips chained together, a motif seen in several masque costumes. The outer fabric is red velvet; the inner, white muslin. (I ran out of red linen, and didn't have time to order more before the costume ball.) Each strip is decorated with painted gold, a process used in La Pellegrina to simulate feathers, embroidery and more. Each strip has a tassel hanging from the bottom, and a jewel glued onto the tip.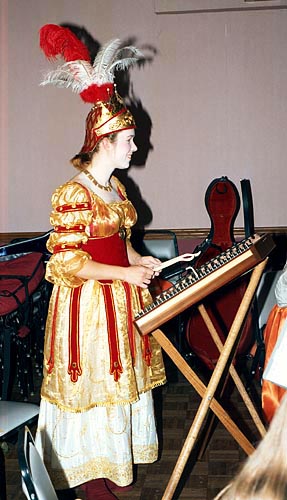 She wears upon her head a Grecian helm surmounted by a crown, worked with pearls, gilt work and feathers. The crown signifies her nobility, and a graceful veil trails behind, which flutters to great effect during the masque.
In many masque costumes, the headdress was both the most elaborate and symbolic article of the costume. It was, for me, the most demanding part of the costume, as it involved leather carving, woodworking, cardboard-making and gold leaf—areas in which I had no experience.
The base of the helm was a felt hat blank, stiffened with a mixture of glue and water. Elmer's glue was used instead of hide glue, as hide glue is not waterproof and I didn't wish my hair to get sticky and smelly if I happened to sweat in it.
Once the hat blank was cut to size, I painted it with a layer of (modern acrylic) gesso, sanded it smooth, and then painted it with a layer of gold paint. Unfortunately, this process shrank the form, and I was forced to snip cuts along the front so that it would fit my head again.
Over this helmet base I glued a layer of filigreed leather with millinery glue. The leather was painted a dark red and carved to imitate interwoven strapwork. It was then varnished to make it shiny, and to seal the leather.
The decorative element on the visor was taken from a decorative piece of wood. Molds were made of stone motifs during the 16th century, by placing tin over the motif, placing a wad of hemp over the tin, and striking the hemp with a hammer until the tin conformed to the stone shape. This process, unfortunately, is too destructive when using wood for the master. I made a rubber mold of the wood and used the mold to create the decoration from plasticene.
The visor was made out of a layer of wool and three layers of linen, stiffened with hide glue. Stiffening fabric with hide glue was a method used by tailors and bookbinders to create buckram. The visor was covered with gold paint, the plasticene sculpture glued on with hide glue, and the decoration gilded with gold leaf.
The crown was also made of period buckram—three layers of fine linen glued together with hide glue, shaped to form while damp and gilded. Pearls were inserted into the tips of the crown and small chains added for decoration.
The base for the tall, feathered ornament was a pole-end from a drapery store, painted gold and drilled with holes for the feathers. I curled the feathers using scissors.
---
Books & Articles on Masque Dress
Arnold, Janet. "Costumes for masques and other entertainments c. 1500 - 1640" Historical Dance, vol. 3 no. 2, 1993
Ashelford, Jane. "Female Masque Dress in Late Sixteenth-Century England", The Journal of Costume, Vol 12, 1998
Linthicum, M. Channing.Costume in the Drama of Shakespeare and his Contemporaries.
Feuillerat, Albert. Documents Relating to the Office of the Revels in the Time of Queen Elizabeth
Saslow, James M. The Medici Wedding of 1589: Florentine Festival as Teatrum Mundi. New Haven: Yale University Press,1996.
Strong, Roy. Festival Designs By Inigo Jones: An Exhibition Of Drawings For Scenery & Costume For The Court Masques Of James I And Charles I. International Exhibitions Foundation, 1974.
Newton, Stella Mary. Renaissance Theatre Costume.
Ceninni, Ceninno. Il Libro dell'Arte. Dover Publications, 1993
---
Websites on Masques
Images of 16th & 17th c. Masque Dress
Costumes from Jacobean Masques
Thomas Campion's Lord's Masque
The Masque: An Introduction to Shakespearean masques
---
Recipes from period sources
While researching how the masque costumes of the later 16th century were made, I looked into contemporary methods and materials for "faking" gold and metal decorations, creating molds and moldings, stiffening leather, paper and fabric, painting fabric, and related skills which would have been used in the making theatrical costume. These skills were, for the most part, the domain of the artist, although thatrical tailors would have known of them—particularly the skills involving leather and cloth.
Cennini's "Libro dell' Arte" contained several useful descriptions of making faux-gold decorations, making molds, types of glue used on paper and fabric, and other techniques which would most certainly have been involved in the making of masque costume.
Gilded Tin & Lacquered Tin
Golden Tin is made as follows. Set up a nice, smooth board, six or eight feet long; and have it smeared with fat or tallow. Some of this white tin is laid out on it; then a liquid known as vermeil is put on the tin, in three or four places, a little in each place; and you pat this over the tin with the palm of your hand, so as to get this vermeil as even in one part as another. Let it dry well in the sun. When it is almost dry, so that it is just a little bit tacky, take your fine gold, and systematically overlay and cover the tin with this fine gold. Then clean it up with some very clean cotton; separate the tin from the board. When you want to use it, work with liquid varnish; and make those stars with it, or any devices you wish, just as you do with the golden tin.
Hide Glue
… And there is a size which is made of the necks of gote and sheep parchments, an d clippings of these parchments; these are washed thoroughly, and put to soak a day before you put them on to boil. Boil it with clear water until the three parts are reduced to one. And when you have no leaf glue, I want you just to u se this size for gessoing panels or anconas; for you cannot get any better one anywhere.
Flour paste
There is one size which is made of cooked batter, and it is good for parchment workers and masters who make books; and it is good for pasting parchments together, and also for fastening tin to parchment. We sometimes need it for pasting up parchments to make stencils. This size is made as follows. Take a pipkin almost full of clear water; get it quite hot. When it is about to boil, take some well-sifted flour; put it into the pipkin little by little, stirring constantly with a stick or a spoon. Let it boil, and do not get it too thifk. Take it out; put it into a porringer. If you want to keep it from going bad, put in some salt; and so use it when you need it.
Making a mold and plaster molding
You may also get a stone, carved with devices of any style you wish; and grease this stone with bacon fat or lard. Then get some tin foil; and laying some fairly moist tow on the tin which lies over the mold, and beating it as hard as you can, with a willow mallet, you then take gesso grosso ground with size , and fill up this impression with the slice. You may embellish with these on a wall, on chests, on stone, on anything you please, afterward putting some mordant over the tin; and when it is a little tacky, gild it with fine gold. Then, when it is dry, fasten it to the wall with ship pitch.
Making decorations out of gilded paper
Now and then, for these tourneys and jousts, devices are made on the covered horses and on the uniforms, modeled, and sewn on these productions. So I will show you how to make them out of paper. And these papers are laid first, the whole sheet of paper, either with burnished gold or silver. And it is done in this way, grind a little ocher, some tailors' chalk, and a bit of armenian bole as fine as ever you can. Temper them together with size which is practically plain Water, so that it is not at all strong, but has little substance or worth; and with a soft bristle brush, or with a minever brush, lay one coat of it all over the sheets of paper; fit for writing, but not written on. And when they are dry, go back, and wet a section with a minever brush, and gild that section in the same way and system as you lay gold on the bole on panel; and when you have got the whole sheet laid, watch for the time to burnish it. ...And out of these sheets you may make animals, flowers, roses, and devices of many sorts, and it will win you much renown; and you do it quickly and well. And you may embellish them with a little coloring in oil.
Modeling crests on helmets
Whenever you have occasion to make a crest or helmet for a tourney, or for rulers who have to march in state, you must first get some white leather which is not dressed except with myrtle or ciefalonia; stretch it, and draw the tourney crest the way you want it made. And draw two of them, and sew them together; but leave it open enough on one side so you can put sand into it; and press it with a little stick until it is all quite full. When you have done this, put it in the sun for several days. When it is quite dry, take the sand out of it. Then take some of the regular size for gessoing, and size it two or three times. Then take some gesso grosso ground with size, and mix in some beaten tow, and get it stiff, like a batter; and put on this gesso, and rough it in, giving it any shape of man, or beast, or bird, which you may have to make, getting it as like as you can. This done, take some gesso grosso ground with size, liquid and flowing on a brush, and you lay it three or four times over this crest with a brush. Then, when it is quite dry, , scrape it and smooth it down, just as you do when you work on panel. Then, in the same way, as I showed you how to gesso with gesso sottile on panel, in that same way gesso this crest. When it is dry, scrape it and smooth it down; and then if it is necessary to make the eyes of glass, put them in with the gesso for modeling; do modeling if it is called for. Then, if it is to be gold or silver, lay some bole, just as on panel; and follow the same method in every detail.
---
Back to Lady Drea's Wardrobe Unlock'd