16th c. Jewelry at the V&A
No costume tour is complete without a look at the jewelry worn with it. The V&A Museum has one of the most breathaking collections of jewelry and accessories that you could ever see. Here is a very small selection of 16th century belts, chains and pendants at the V&A.





Enameled Gold Chains from the Cheapside Hoard
These chains would have been worn by the middle-class and well-to-do. The Hoard dates to c. 1600.






Pendants Elizabethan pendants were both pinned to a gown or doublet, and hung from a chain or ribbon around the neck. Some pendants were hung on ribbons threaded through the ear, or attached to the end of a girdle belt.



Pomanders
The first is attached to a girdle; the second, a skull pomander.


A Girdle Book
This fabulously enameled girdle book cover would have contained a small book of psalms or prayers. It would have hung from the girdle of an Elizabethan noblewoman.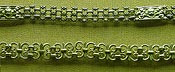 Two Late 15th/Early 16th century belts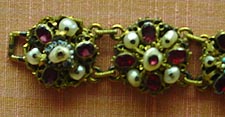 A Carcanet
This collar would have been worn close around a woman's neck.
---
Back to the V&A Costume & Textiles Tour