Detail from Portrait of Elizabeth as a Princess
Single square jewels in elongated acanthus leaf settings are used to fasten the princess's undersleeve. They also decorate either side of the puff on the sleeve. Jewels were often used in conjunction with puffs of fabric.

Detail from Portrait of Queen Elizabeth (1592)
Single teardrop pearls are attached to bodkins and inserted into the queen's hair. This would be easy to accomplish with modern jewelry findings.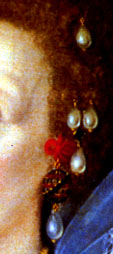 Detail from Portrait of Queen Elizabeth (1592)
Single rubies and emeralds and quatrefoils of pearls are set in goldwork and sewn to the sleeves of Elizabeth's gown. Single pearls are also sewn to the sleeves.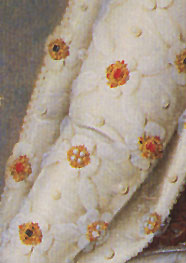 Detail from the Pelican Portrait of Queen Elizabeth
This gown surely shows all the ways in which jewellery can by applied to clothing. Square gems set in goldwork divide the puffs on her shoulder rolls. Rows of pearls outline the strips dividing the puffs. Pyramidal clusters of four pearls and additional square cut gems in goldwork settings adorn these strips, as do smaller pearls in enamelled, rose-shaped gold settings.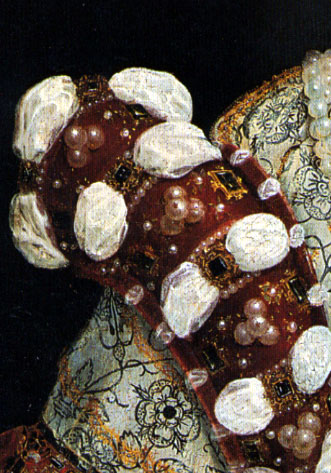 Detail from Portrait of King Henry
Topazes divide the puffs on King Henry's doublet.