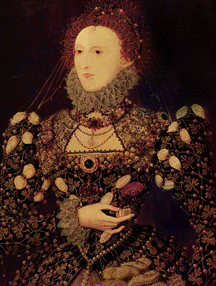 The Phoenix Portrait
Queen Elizabeth I, known as the Phoenix Portrait
by Nicolas Hilliard
C. 1575
National Portrait Gallery, London

This is one of queen elizabeth's most famous portraits, mostly because of the breathtaking richness and complexity of the gown she wears. The portrait is known as the "phoenix portrait" due to the medallion worn on the breast of her bodice--a phoenix rising from the ashes--meant to symbolize her own rise to power.

A good deal of decoration in Elizabethan portraiture, and in costume in general, was symbolic in nature. Embroidery motifs usually had hidden meanings understood only by those in the know; Janet Arnold goes into this symbolism in depth in her book Queen Elizabeth's wardrobe unlock'd, and some examples of symbolic embroidery, accompanied by descriptions of their meanings, can be found on a page about Embroidered Coifs.

This portrait is important in a great many ways; due to a thorough description of this very gown in Elizabeth's Wardrobe accounts as well as other descriptions of gowns which portraits were painted of, we are able to match a number of Elizabethan costuming terms with what they looked like. Janet Arnold goes into detail about this process in the book mentioned above.

This gown is described as a "strait-bodied" gown, or a "French Gown", with "french sleeves". A French Gown--another example of Elizabeth's love for foreign fashion--was apparantly a front-closing gown with a narrow, tight-fitting bodice, a low, square neckline and a wide skirt tightly cartridge-pleated to the waistline. the term "strait-bodied", which meant tight-fitting, was another word for the same thing.

The embroidery pattern on the gown reveals that the bodice is cut on the bias--that is, with the weave of the fabric at a 45 degree angle, rather than going vertically and horizontally. Fabric cut on the bias stretches more than fabric cut on the straight, which may have helped this French bodice fit more tightly and smoothly to the torso.

Either the Queen is wearing a boned corset (known then as a "pair of bodies") underneath her gown, or the bodice itself is stiffened with reeds or perhaps even whalebone. Both items--a separate pair of bodies worn under a bodice, and boned bodices themselves--are documented in Elizabeth's wardrobe at this time.

This French Gown is worn in conjunction with "French Sleeves". This foreign style, which became quite popular in England, was a sleeve with a large, padded sleeve-head which tapered smoothly down to a small wrist.

The shape of the dress as a whole--narrow sleeves with broad tops, tight-fitted, front-opening bodices with very full overskirts and low, cuved necklines--echoes that of many woodcuts of French Noblewomen created during the same decade.

What truly sets this gown apart from any other is its incredible decoration; the ruff is edged with fine lace, the partlet is intricately embroidered with blackwork, and the gown itself is completely covered in gold embroidery and pearls. Cleverly placed puffs accentuate the breadth of the shoulders and the slender waist. The heavy, elaborate jewelry makes it even more breathtaking. Clearly, this was a portrait meant to impress. By this point in time, the typical Elizabethan gown had become very "busy"--covered with embroidery, trim, beads or pearls (by those who could afford it) or other fabric treatments, such as pinking or slashing. (see Elizabethan Costume Detailing for a complete description of Fabric decoration tecnhiques). A far cry indeed from the simplicity of Tudor garb, when the fabric itself was, for the most part, a gown's main decoration.

The queen's head is completely uncovered, and her hair is dressed in her signature curls. Frizzing and curling the hair became quite fashionable during her reign, as people sought to emulate Elizabeth as much as possible. She wears only a small headdress and transparent veil.

One interesting quirk: This Gown is of blue velvet. Blue was, by the elizabethan period, considered a color worn mostly by servants, due to the cheap cost of indigo dye. Who knows? Perhaps the queen was trying to make one more symbolic point.
---