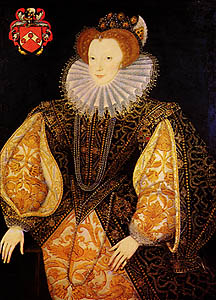 Lettice Knollys, Countess of Leicester
Lettice Knollys, Countess of Leicester, c. 1585
Attributed to George Gower
National Portrait Gallery, London
This portrait of the Queen's cousin, Lettice Knollys, shows the elaboration of many elements found in the 1569 portrait of an Unknown Girl The ruff has expanded in size, as has the breadth of the sleeves and the breadth of the hoop skirt. Lettice's dress is elaborately decorated, covered with embroidered pearls and gold cord. The wide sleeves, of a style known as the Spanish Sleeve, are slit in the front and hang down, exposing the undersleeves to view (a common practice during this time). The style of tabs found at the waist echo the picadils, or shoulder tabs, which concealed the points tying bodice and sleeve together.
This bodice, like others worn by spanish and continental women, covers everything up to the neck. It is, in effect, a female version of the male doublet. This style, imported from Spain, became more and more common in the late 16th century.
White and gold were a popular color combination of the time in England, white being one of queen Elizabeth's favorite colors. Elaborate decoration was also a hallmark of Elizabethan noblemen and women's costume; courtiers would often spend themselves penniless to obtain as impressive a wardrobe as possible.
---