"Red as a Rose" I
7/4/2002

This was an attempt to reproduce a recipe in the Profitable Book, .To Dye with Brazill as Red as a Rose..

Ingredients:
1.5 flemish ells of cloth (1 flemish ell=28 inches; about 1.5 yards)
4 gal water
2 oz powdered galls
8 oz madder (George Weil "best turkish" madder)
1 oz alum
1 oz brazilwood


Process:
Put galls in 4 gallons of water and boil for two hours.

Put madder to soak in 1 gallon of water beforehand.

Put brazilwood to soak in 1/2 gallon of water.

Filter out the gall water into another pot, bring to 150 degrees, add cloth.

Wring, hang to dry.

Boil alum & water, take off the fire, soak cloth for 1/2 an hour. Rinse.

Add 4 gallons of water to the madder, bring to 160. Put in cloth. stir constantly for half an hour.

Rinse. Add 3 gallons of water to the brazilwood. Add 2-4 cups of urine. Bring to 150 degrees. Stir cloth in it for 5 minutes.

Notes:
This recipe was an attempt to replicate the following 1580s recipe :
To dye with brasill as red as a Rose.
Take sixe elles of linnen, and thereto halfe a pound of beaten galles of the best: then put it in faire water, and let it seeth about two houres, but the galles should rather be all whole, and when they are sodde, set it from the fire, and put it gently in another Kettle or fatte, and then put your linnen therein, as hote as you may handle it, and stirre it therein foure houres long, that done, then wring it well foorth, and hang it to drie. Then take four ounces of Allom, and seeth it with water, and when it is sod, take it from the fire, and put your galled cloth therein, as hote as ye may suffer it, the space of a quarter of an houre, then take your branne water and put thereof in a Kettle, and as it is warme, put therin two pound of grening weede, let it be the first time soke well therein, and let it be well and hote, but not seeth, and then put your cloth therein, and stir and handle it well at the first with your handes, nye half an houre with a staffe tost well all about, and wel handled in the die, and then ye shall take your cloth, and spoonge it in water and wash it cleane. Then take a little Allom, and seeth it with water, then shall ye haue two ounces of brasill sodde in light water, and put your cloth therein, fiue pater nosters long. Then if it be not drie ynough, then weat it as before is sayd.
The original recipe was in the Dutch book from 1513, T Bouck va Wondre. The Dutch recipe specified "cloth" instead of "linen", and greening weed was originally madder. I decided to use a flemish ell (28 ") and reduce the recipe to a quarter of its original size. This would have taken the brazilwood to 1/2 an ounce; I upped it to one ounce hoping for a better red. A pater noster works out to about 30 seconds long. I used plain water instead of bran water, as I had no bran water. "light water" in the original Dutch was "dirty water" (aka water with urine in it.)

There are four steps to this dye: galls, alum, madder & brazilwood. I used different strips of wool in different combinations of the four baths, to see what effect they had.

The tannin dulled the wool considerably, and overall the color was peachy and coraly, disappointingly orange. The brazilwood did improve the color somewhat. The alum + madder + brazilwood turned out the best on the wool. The linen came out a nice pink. Regardless of the fact that .cloth. was specified in the original Dutch, I do think that this recipe is targeted to linen, what with the galls, and all. I should have soaked the madder longer to get more color out of it; soaking longer in the alum would also have brightened the color. Try bran water next time. Also add a bit of alkali to the dyebath to counteract the orange color of the madder, or try a lye afterbath.

Samples:
1. Main fabric: galls, alum, madder, brazil.
2. Alum, madder, brazilwood
3. madder, brazilwood
4. alum, madder
5. galls, madder, brazil
6. galls, madder
7. silk (galls, alum, madder, brazil)
8. linen (galls, alum, madder, brazil)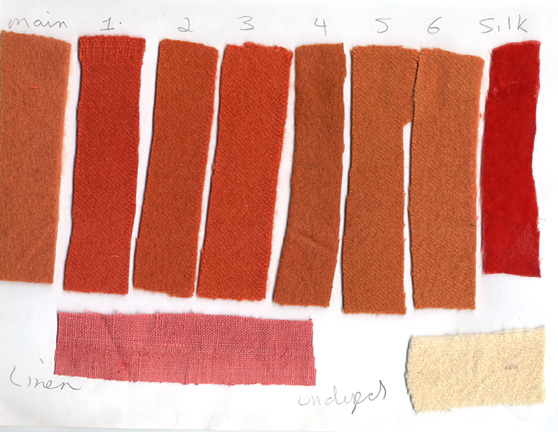 ---
Back to the Lytell Dye Book