Elizabethan Smocks & Chemises

The chemise, called a "smock" or "shift" in the 16th century, was a simple garment was worn next to the skin to protect clothing from sweat and body oils. As Elizabethans rarely indulged in full-body baths, and as the clothing of the middle and upper classes was not the kind one could pound on a river rock or scrub regularly with ashes and lye soap, the chemise was vital to Elizabethan costume.
Smocks were made of fine linen, as fine as the wearer could afford. Many of the better smocks were made of what we now call "handkerchief-weight" linen. Lawn, cypress and holland were three 16th c. varieties of sheer linen used for fine smocks. These smocks hung to just about knee to calf-length, on average. There were several varieties of smocks worn in the 16th century; below is a listing of the main types.
The Low-necked Smock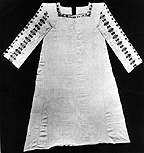 The first had a low, square neck, tube-like sleeves, and a body that flared from the armpits down to the hem (shown to the left). It is cut very much like a basic T-Tunic of the earlier middle ages, and was worn by women. Smocks with this shape show up frequently in depictions of lower and middle class women of the 1560s, and in portraits of the 1570s.
High-necked gathered smock/shirt

Another common shape was cut more like a shirt, and was worn by both women and men: the body was gathered into a collar, and the sleeves were gathered into cuffs. Sometimes there was a small ruffle at the top of the collar and the edge of the cuffs; sometimes the top of the sleeves were pleated or gathered into the body. This type of shift is shown to the right (the one on the left side of the photo), and was worn as a shirt by men as well. Examples of this type of shirt are seen in portraits of the 1530s all the way up to 1600. There are a number of Italian portraits showing this type of smock, called a "camicia" in Italian.


High-necked ungathered smock

A third type of smock is also seen: this type has the ungathered, T-tunic shape of the first smock above, but has sleeves gathered to cuffs and either a fitted collar (shown to the right) or a flared, fall-back collar. This type of collar is seen in portraits of the 1560s, 1570s and later, but it is hard to distinguish from the portrait whether the fall-back collar belongs to a smock or to a partlet worn over a low-necked smock. This type is worn by women.


Low-necked gathered smock
The fourth type of smock had a very voluminous body and sleeves, and was pleated or gathered to a low neckband and wristbands. This smock was worn in italy and Germany during the first half of the century, but fell out of fashion in the later 1500s. Ironically, this more uncommon is the type of smock most often created by Elizabethan re-enactors, probably because it is easy to make and there are several patterns out there to help the costumer make it.
Smock Fastenings
Smocks with a collar had a slit up the front, often decorated, and fastened either with laced on either side of the collar or with hooks and eyes. The same fastening methods were used for cuffs. Sometimes the cuff was gathered and stitched to a ribbon that was used to tie the cuff, imitating a drawstring cuff; but drawstrings were not used for collars or cuffs in the 16th century. Sometimes small eyelet holes were worked in the collar and cuffs, and a lace passed through the holes and tied.
Smock Decoration
Sometimes the chemise was gathered by smocking; sometimes the neckband, cuffs, and the chemise itself were decorated with embroidery, particularly "blackwork" embroidery. Blackwork was a common type of elizabethan embroidery which used only one color to create designs, usually black. Like so much of English Fashion, it originated in Spain. Monochromatic designs in red or blue silk were also popular. Colored silk embroidery was rarer, but is seen in some pictures. The neckline could be edged with thin bobbin lace. in some cases the neck and cuff gatheres were covered with a tablet-woven or embroidered band.

Photos of Smocks:
Smocks at the V&A Museum
Smocks at the Bath Costume Museum
A Boy's Shirt, c. 1550
More Information:
Check out this detailed article on the history and development of Women's Smocks of the Late 16th Century (of the T-tunic variety), including instructions on how to make one.
---
Making an Elizabethan Smock / Chemise
If you wanted to make a smock, you'd use a fine cotton fabric such as batiste, gauze, or, if you're making a chemise for a lower-class character, a cotton fabric with a slightly roughter weave. It is, alas, difficult these days to find linen in your local fabric store woven finely enough for a noblewoman's chemise; If you can't find any good local linen, check out these Mailorder Sources.
T-Shaped Smock: Gathered Italian Chemise:

Other Elizabethan Underpinnings:

Home